December 6, 2006 by Justin
I'm happy to announce that tomorrow, Code Sorcery Workshop will be participating in a charity day for Child's Play. The short version is that all (yes, that's 100%) of the proceeds that I gather from Pukka for tomorrow, December 7, will go towards Child's Play. If you've been thinking about registering, now is a great time to do so!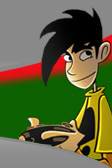 Child's Play is a Seattle-based charity that provides games for kids in children's hospitals over the holidays. Here's a quote from The Seattle Times:
"Child's Play is putting the media's negative portrayals of video games to shame, and showing the world that gamers are good people, too."
For me, gaming was a big part of my childhood that influences me to this day. Problem solving, teamwork, and just general escapism (in moderation) are great things, and I think that it's wonderful that I can put my programming skills to use towards helping brighten the days of children who are hospital-bound over the holidays.
So again, if you are on the verge of registering Pukka, what are you waiting for? And while you're at it, check out the other great software developers who are participating as well. Thanks to Mike Zornek of Clickable Bliss for coming up with and organizing the idea.
Trackback URL for this post:
http://codesorcery.net/trackback/42
RSS feed for comments to this post