March 14, 2007 by Justin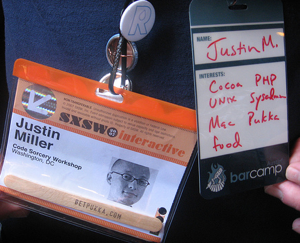 Well, my time in Austin is done (though I'm now in Houston, so Texas ain't through with me yet) and South By Southwest Interactive has definitely been a memorable experience. At some point, the amount of information learned, amazing people met, and great experiences had kind of hit a level where it was just kind of overwhelming and my ability to speak about it shut down. However, perhaps the lack of sleep, fast pace, free beer, and plentiful Tex-Mex played a part. I'll try to highlight and summarize based on my notes. I can't wait to get copies of a lot of the slides that were used.
Panels
Consistency in User Interface Design: Think about goals, not feature lists. When you imitate or are inspired by an existing interface, don't emulate it too closely because people will complain about the slight differences. Think about types of users -- legal secretary vs. a fourth grader using WordPerfect, icon editor vs. a photographer using Photoshop.
Tag. You're It: Kind of a "state of the folksonomy" to me and an update on where we've come in the last year and the challenges remaining. I really enjoy hearing Thomas Vander Wal speak about tags. I caught his panel last year as well and managed to find him at 8-Bit on Saturday night and chat for a while about tags, del.icio.us, and social bookmarking. Learned about new uses for tags: libraries, museums, wine and music collections, travel website archived content.
Stop Designing Products: Find an "experience strategy". The experience is the product. Remember George Eastman and the one-button camera experience. People interact with products like they do with people. Think about how much iTunes does to make the iPod experience simpler and easier -- offload the functionality.
Why We Should Ignore Users: Of course, this is not meant literally. The gist was how to balance user request in design. A lot of times, what users want is emotional or inexplicable. Consider activity-centered design, not user-centric. Think about environment: checking email, on a Blackberry, on the subway -- how does that impact the design?
Scaling Your Community: Matt Mullenweg from WordPress. Very entertaining and genuine, kind speaker -- love him. Be as useful to the last 100K users as to the first 100K. Start simple, bootstrap, let go, personalize. Email is the best scaling software ever. Speed is a feature. Be transparent. Don't believe your own press. Have fun! Happiness is a continuum -- lovers on one end, haters on the other, mediocrity in the middle. Learn from the haters. Also, best reference to a Venn diagram -- "times I've had the most fun intersecting with times I was wearing pants".
Will Wright Keynote Speech: Will created SimCity, The Sims, and is working on SPORE. Mind-blowing. "We need to re-calibrate our intuitions." Mile a minute. Can't wait to see the slides, because I don't think a video camera, let alone a photographic one, could have kept up. Very inspiring.
Design Aesthetic of the Indie Developer: John Gruber, Shaun Inman, and Nick Bradbury. Indies sell to users, not businesses. Great design speaks to you. Design is a pile of interrelated decisions. Design for yourself to scratch an itch. Build things twice -- once to learn, again to do it right. Buzz is great, but sometimes silence is golden -- nothing's broke. Again, get lovers and haters, but get in front of real people.
People
I enjoyed meeting some Yahoo! peeps, though del.icio.us representation was pretty slim -- met Jonathan on the PC side. Caught up with Blake of CocoaRadio. Met Ma.gnolia founder Larry and user Chris. Met and hung out with Manton of Wii Transfer and Buzz of Cocoalicious. Alex from Twitter was in our posse from DC (including EchoDitto folks -- check out their take their blog about it -- and new friends John, Jason, and Ben) and turns out he was at C4. Met Pukka users Paul, George, Kathryn, and re-met Brad. Also, today here in Houston, I had lunch with Chris from Saltatory, Growl, and Adium. Whew! I'm still hoarse from many, many parties, late nights, and shouting over bar music about topics such as the thread safety of various Cocoa classes.
So, enough for now. SXSW remains on my must-do list and I'm hoping to make it to WWDC this year, as well as C4[1], so I hope to see the developers among you there!
Trackback URL for this post:
http://codesorcery.net/trackback/59
RSS feed for comments to this post