February 23, 2009 by Justin
Posted in
I wanted to take a moment to help promote an upcoming Mac developer conference. Scotty over at the excellent Mac Developer Network (a podcast network that I've participated in a couple times) is organizing a Mac developer conference in the UK in April that looks simply amazing.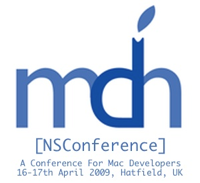 The speaker list looks fantastic: Bill Dudney of Pragmatic Programmer iPhone book fame, Matt Gemmell (he of of the custom Cocoa controls), Mike Lee (World's Toughest Programmer), Fraser Speirs of iPhoto & Aperture plugin fame, and several more, plus workshops and what I'm sure will be excellent networking amongst Mac & iPhone developers.
Unfortunately, due to a lot of travel and moving in March, I won't be able to make the trip to the UK for the conference, but I'm hoping it becomes a regular thing as I would definitely like to in the future.
If you are looking to jump-start your Cocoa development skills, NSConference looks like it would be a great way to do so.
Best of luck NSConference!
Trackback URL for this post:
https://codesorcery.net/trackback/186
RSS feed for comments to this post