May 2, 2009 by Justin
Posted in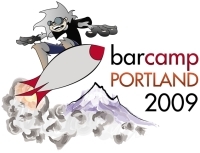 I wanted to get the word out about BarCampPortland this Saturday at CubeSpace here in Portland. BarCamp is an "unconference", an ad-hoc gathering of tech enthusiasts over the course of a day to jam on ideas, implementation, personal networking, and whatever else they want, all unplanned and take-it-as-it-comes.
Tonight was the kickoff, which involved some registration (which is free, by the way), some food, some meeting folks, and some proposing of sessions for tomorrow.
Inspired by an excellent session at this year's SXSW, plus the fact that I've now been working at my own business for two-and-a-half years, I proposed a session called Solo Shops (and how to stay that way). I hope to facilitate a discussion about how to get going, but more importantly, how to manage a business entirely on your own whilst staying sane, profitable, and engaged.
There are a whole host of awesome sessions up on the big board, so I can't wait for the events to begin.
Hope to see you there!
Trackback URL for this post:
https://codesorcery.net/trackback/206
RSS feed for comments to this post