June 15, 2009 by Justin
Posted in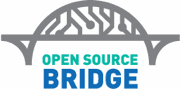 I'll be attending the Open Source Bridge conference later this week here in Portland. I'm very much looking forward to it, partly because I love to use and contribute to open source software, but also because the conference itself has been run in an open source manner -- by volunteers, building open source conference software, and with the overarching goal of trying to answer a question: "What are the rights and responsibilities of an open source citizen?"
Before I moved to Portland, and before I was more regularly attending conferences, I had always wanted to attend OSCON, which was held in Portland every summer from 2003 to 2008. Part of this was to visit Portland and to feel the conference vibe in this city. Now that OSCON is moving back to California, and Open Source Bridge is here (as am I), I'm ready to help make this conference an awesome reason to explore open source in Portland.
Hope to see you there -- there's still time to register!
Trackback URL for this post:
https://codesorcery.net/trackback/222
RSS feed for comments to this post